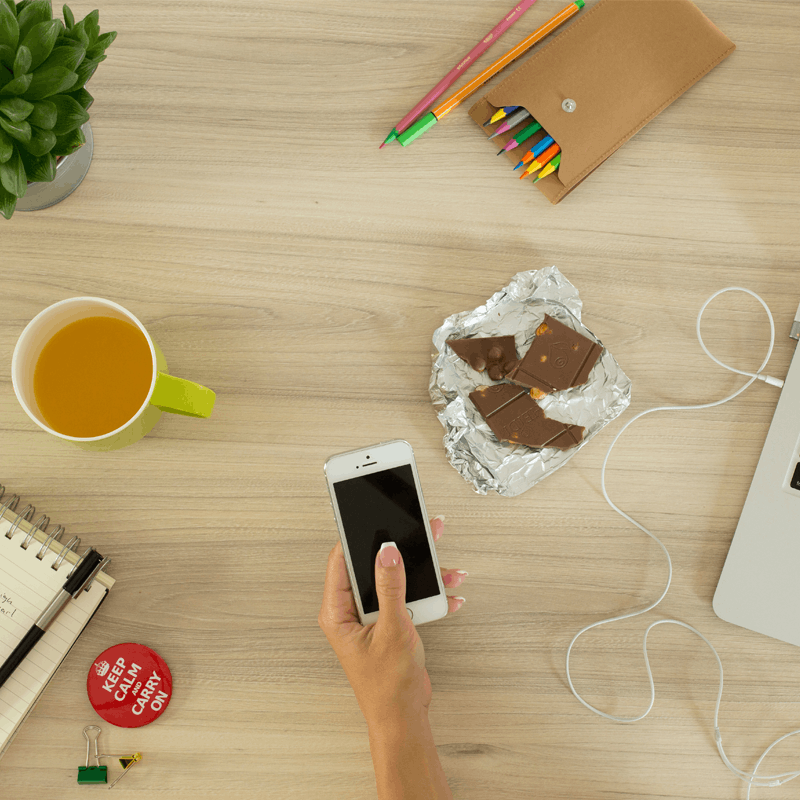 With more than 50% of the searches coming from mobile devices, understanding the user's behavior and intent throughout their offline/online journey is crucial for any company that wants to win the moment. Mobile presents a huge opportunity for digital marketers to connect with their targeted users all along their purchasing experience. In order to do that, our Orlando digital marketing experts recommend that marketers change their digital marketing strategy soon; shifting the focus from the lower part of the sales funnel to the wider portion of the funnel to increase the odds of winning customers over their competitors.
The customer path is not linear anymore. In fact, according to recent statistics from Google, over 75% of online adults (18–54) start an activity on one device and then continue or finish it on another. Because of this reason, in 2017 more than ever, one of the main priorities in the agenda of any digital marketer will be to start building connections at a higher level of the funnel. The key is to match the intent of the user with the right content. Marketers need to start presenting the right content to the right users at the right time. This is a new challenge that marketers need to start facing to win their consumers at the right time.
Before we move on, it's important that marketers familiarize themselves with the customer journey that we are talking about. As we've mentioned in previous blogs, the customer journey encompasses several steps defined by Google as micro-moments. Here is a recent video from Google explaining what they mean by micro-moments:
Now that you've watched this video, it will be easier for you to understand why trying to connect with users at the I-want-to-buy moments will be much harder than trying to connect with them at the I-want-to-know moments. With this context/scenario in mind, how can we better serve our users this upcoming year? Our
Orlando digital marketing
team has listed three key conversations that need to start happening in your business to rethink your digital marketing strategy in 2017.
Win The Moment
If you are creating content for those that are in the I-want-to-buy mood, you are losing lots of opportunities and decreasing your chances of interacting with a bigger audience at the right time. One of the biggest trends in content during 2016 has been content hubs. The thought process behind generating this hub is right on with our first point. Content hubs are the perfect place to engage with users, not sell to them, who come to read related content about your brand that they enjoy based on their affinities.
Company Sample:  Scotts Miracle-Gro is a lawn care company that instead of strictly talking about tips to maintain your lawn care, decided to create a widened variety of content to engage with their potential customers at a higher level of the sales funnel. Based on their target demographic and their interests, they decided to create the best barbecue ever written playbook including lawn care as part of the instructions. See what they did there? By helping their potential customers, those that like to enjoy the outdoors with friends, those that love barbecues, those new homeowners, they created a useful piece of content for their customers that they could benefit from. The lawn care company learn about the interests of their potential users and hit them at the right time when they were in the I-want-to-know moment. This kept Scotts Miracle Gown in the top of their mind when the I-want-to-buy moment arrived.
Create a Wide Variety of Lengths For Your Content:
In a fragmented media landscaping where users can access content from different devices and screen sizes, adapting the formats of the content you create to serve them all is key. However, more than ever in 2017, having a mobile first creative strategy will be crucial and a real challenge. Mobile content means sweet and short: either it connects with the users within the first six seconds or it won't be engaging at all. No kidding, this is the amount of time that Google is talking as far as user's spam attention on mobile devices. Six seconds is all the time marketers have to convince users that their video is interesting enough to keep watching it. Marketers need to rethink the way they tell their stories and realize that having a wide variety of content length in place to provide the right answer in the right format is absolutely important.
Company Sample: Colgate is a great sample of a company that has started to rethink the way they are telling their story. This company chose two famous beauty v-bloggers to promote their whitening line. By taking advantage of two YouTube influencers to connect with their audience, Colgate was able to lift their brand interest by 1,116%.
Readjust Your KPIs
In 2017, it's essential that companies start bridging all the gaps when it comes to collecting and tracking data across different platforms. Of course, revising your current KPIs and adjusting them for the upcoming year is not an easy task. Some tips that we recommend is to ask your team what they really want to start measuring. With this is in mind, revise your traffic and data to see what's working to drive those goals. Use new tools if necessary to bridge those gaps, especially if have a mobile app or a mobile site and wonder what's the connection in your traffic trends with those users that visited your app last week.
Company Sample: Target realized that their users were going online to start browsing their future purchases from a mobile device but then going to the store to buy those items in person. In this scenario, they started to take advantage of the situation. Their marketing team started to pay closer attention to their online trends and user's data to learn more about the behavior of those users and translate them into insights for their store. They were now able to measure their digital marketing impact in an offline environment. Taking this a step further, they were able to improve their inventory across all channels. In other words, based on their user's online searches they were able to know what purchases their users were considering and were able to better supply their stores with it.
Investing in upper funnel strategies is the rule number one that your company should follow this upcoming 2017. Commit to being there in the moment when users need you, reshape your stories to accommodate all the devices, and measure across all devices to get the most actionable and impactful insights. Our Orlando digital marketing team already has their minds in full swing for 2017, and so should yours. Stay tuned to our blogs for more tips on what to expect in digital marketing in the upcoming year. We've prepared a whole editorial calendar with this in mind. This way, you can start planning how you are facing this new year in the online environment ahead of time.
Let's get rethinking!
Lydia
Save