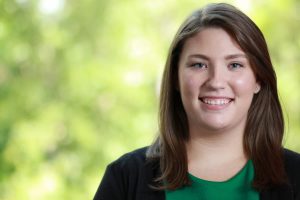 On Target Digital Marketing proudly welcomes Maggie Weldin as the new content marketing lead. Weldin joins On Target after working at a full-service marketing communications agency in Iowa, as a new media strategist. Weldin has three years experience in the marketing industry, and she brings expertise in writing, editing, and overall strategy for content and social media marketing.
"I am so excited to be joining the On Target team in order to help the organization take the next big step in growth within the content marketing vertical," said Weldin. "I know my background in writing and strategy can help bring our content marketing efforts to the next level for ourselves and our clients."
"We are excited to have Maggie on the team," said Tom Jelneck, founder and owner of On Target Digital Marketing. "Maggie brings with her a wealth of digital expertise and strong drive to improve content marketing strategies for each client."
On Target is dedicated to growing its content marketing department, as content marketing is at the core of any successful digital marketing campaign.  On Target drives search engine optimization through strategic content while analyzing user behavior and conversion demographics.
About On Target Digital Marketing
On Target Digital Marketing was founded by Tom Jelneck in July 2005 in Orlando, Florida. The agency specializes in online lead generation through content creation and marketing, paid search, marketing focused design, earned media and social media marketing.