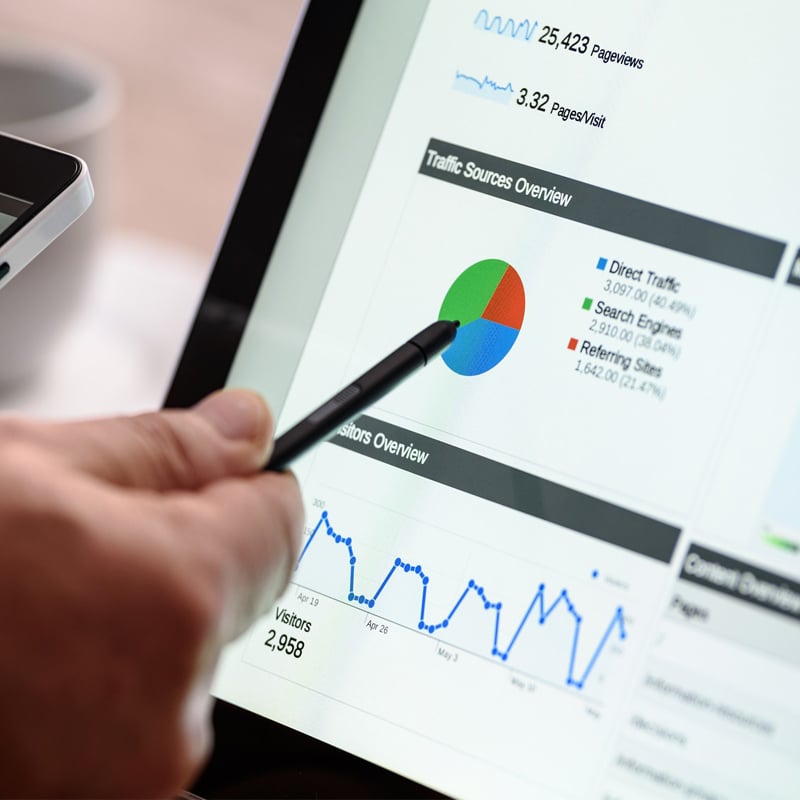 KPI, ROI, PPC, CPC, CPM, and the list goes on. When you're reporting on your organization's website, content, public relations efforts, social media platforms, and paid advertising campaigns, there are a lot of different KPIs (or key performance indicators) you could be looking at and reporting on. As a leading Orlando content marketing agency, the experts here at On Target are often reporting on the effectiveness of our content marketing strategies. Oftentimes, we have clients with exceptional products or services, and their goal is to raise awareness of their brand and tell their story through content marketing. If you are also reporting on your content marketing strategy and want to find out how much brand awareness you've acquired, there are a few core KPIs that will prove valuable.
Reach
If the goal is to get eyes on your brand, then reach is possibly the most important KPI you can measure. In particular, social media reach can tell the story of your content. Depending on where you share your content, many social media platforms provide reach data specific to each post. The reach data can help you understand how much brand awareness you are accomplishing and which platforms are working best for your message. Reach can also indicate if the frequency of your content distribution needs to be increased.
Mentions
Increased brand awareness often leads to increased buzz, so tracking mentions can be invaluable. Marketers can use social listening tools like Mention to learn more about what the public is saying about the brand. For some brands, this will provide further insight into which kinds of content are most appreciated and talked about. Social listening doesn't just include social media; track your mentions across blogs, other websites, and forums, too!
Aside from a tool like Mention, Google Alerts can also be used to monitor mentions. You can set up alerts for your branded keywords, and then Google will alert you of any new mentions as they occur.
Shares
Tracking the number of shares serves two main purposes. First, it helps you better understand brand awareness based on the increased reach achieved by the shares. It also helps you evaluate which types of content formats or subject matters perform best. Tracking shares demonstrates how content performance differs on various social platforms. For example, you could suspect that a business-oriented whitepaper may perform much better on LinkedIn over Facebook, but the sharing data could likely confirm that.
One of our favorite time-saving content marketing tools is Buzzsumo. With their content research platform, you can enter any URL and be presented share data across platforms. This saves time and provides a graphic that makes a nice visual addition to a report.
Search Volume Data
What's the underlying goal of increased brand awareness? I'd say it's increased interest and, ultimately, increased leads. Using search volume data, you can see how many people are searching for your branded keyword and if interest has increased or decreased. If your organization uses Google AdWords, you have access to the Google Keyword Planner. Using the planner, you can retrieve data regarding branded keywords that also compares timeframes. For example, you could compare this month last year, when maybe content marketing was not a focus, to the current month and see the impact. Here is a quick overview of using Keyword Planner.
In addition,
Google Trends
can be used to track branded keyword interest if your brand is large enough to garner a collection of data.
Direct Traffic
Taking things one step further in the sales funnel, consumers with increased brand awareness and interest will be accessing your website directly. Within Google Analytics, note any increases in direct traffic over time. Do any of the increases correlate to the implementation of a content marketing campaign? With direct traffic, it's easy to see an increase in brand awareness, but it can't necessarily be attributed strictly content marketing, so keep that in mind.
With these KPIs, you can build out a content marketing brand awareness section of your reports and truly demonstrate the level of brand awareness that is being achieved through content marketing efforts. While sharpening your reporting skills is important, the truth is that content ideation, creation, implementation, distribution, and reporting can be time consuming. With On Target, you're supported by a team of expert content creators and executioners, intelligent data analysts, and forward-thinking digital marketing strategists that want to take your brand to the next level through every stage of your sales cycle, from brand awareness through conversion and relationship management. To partner with the most seasoned Orlando content marketing agency, give us a call today.