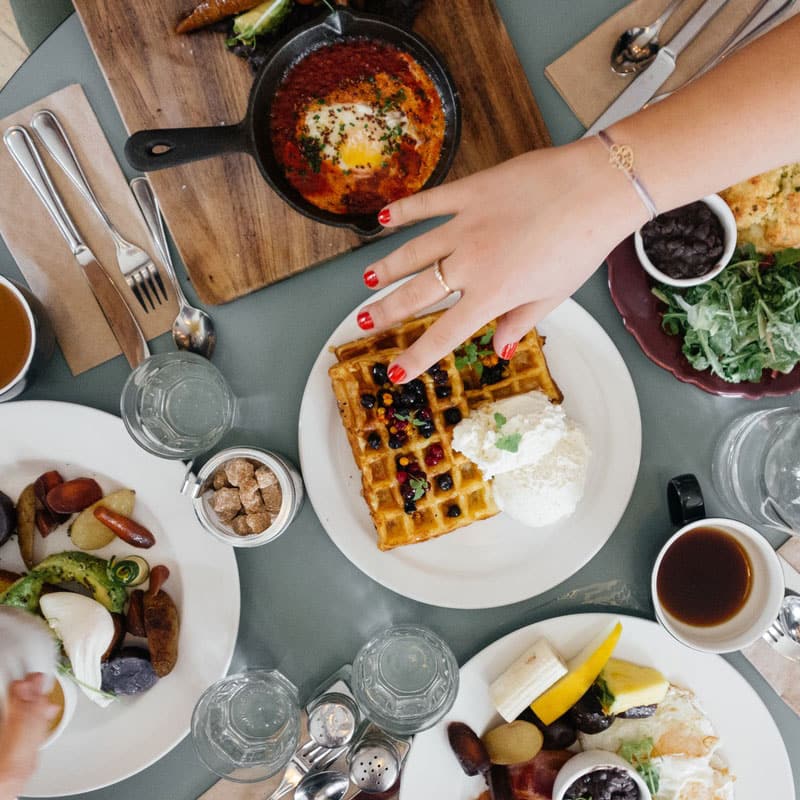 Orlandoans, our prayers were listened to once again! Our favorite online retailer, Amazon, has surprised us with another great way to make our daily basis a bit smoother and tastier. Amazon, always ahead of the curve in online delivery services, decided a year ago to take their game one step farther coming up with Amazon Restaurants.  And while we know for some of you, this might be old news in your city, this service just rolled out in the Orlando metro area on October 13th! Our Orlando digital marketing team is amped about it.
As much as we love working for our clients, when the hunger-clock starts ticking, the same questions arise in the office: "Hey did you bring lunch today? Yeah, me neither. Cool, so what are you in the mood for? I don't know, but I'm super busy, and I don't want to leave the office." The struggle is real. Coins are flipped to see who's picking up food that day… There's a lot "emotions" involved, but not anymore. Well, not until we get bored of Amazon Restaurants and we start demanding for more options! Right? Until that day comes, let us explain some key things you need to know if you want to start using Amazon Restaurants:
You have to be a Prime member.
It is only available in some areas in Orlando including the following ZIP codes: 32801, 32803, 32804, 32805, 32806 and 32814. It is also offered in Winter Park for their main ZIP code, 32789.
Use the promo code EATNOW10, and save $10 on your first order when you place an order of $20 or more.
Free delivery in an hour or less.
Orders are trackable, so you can see where your food is at every step of the process.
34 restaurants to choose from in the Orlando area. These are three of our favorite options:
Don't forget to leave a tip! Amazon's tip suggestion is set up to $5 by default, but you can change this during the checkout process.
When it comes to customer satisfaction, Amazon has proven, once again, that they know what they are doing. The excellent customer experience that Amazon delivers is not by luck. By using the reviews of their consumers to their advantage and by analyzing the behavior of their users, Amazon is able to continue to expand their services and look for opportunities to better serve their current and potential users' needs. This is a lesson that every marketer and business owner should take very seriously. Consumer expectations keep rising, and Amazon continues to show that they can keep up with the pace.
To celebrate, our Orlando digital marketing team wanted to place a group order. However, our zip code is not yet on the list. Bummer. I guess we'll continue to flip coins. For all things Orlando, don't forget to stay tuned to our weekly local blogs. For more tips on how to gather more insights from your online users, our analytics team we'll be happy to help you! Feel free to drop us a line any time.
Bon appetit, Orlando!
Lydia