If you've worked on both B2C and B2B marketing campaigns as a marketing manager, you know that the two are very different beasts. As digital marketing technologies, platforms, and strategies evolve, it's essential for B2B marketers to understand and keep updated on the tactics that can make their brand successful. B2B marketing is, essentially, about understanding the needs of other businesses. And, while there are some similarities between B2C and B2B, such as branding, development, promotion and product distribution, the B2B consumer tends to look very different, and therefore, the digital marketing strategies that accompany the B2B campaign will be more complex. Let's explore the five essential truths that B2B marketing managers need to recognize.
Know Your Audience.
Knowing your audience is a fundamental necessity for any type of marketing or advertising campaign, but it's especially true when you're going to identify the digital platforms you're going to use in order to reach your audience. A couple of things to remember about the B2B audience are:
B2B organizations have a complex decision-making unit. According to Google, B2B marketing strategies typically focus exclusively on the C-suite or other senior-level executives. While that's still important, marketers are overlooking who is in charge of the research process online. While 64% of the C-suite have final sign off, so do almost a quarter (24%) of the non-C-suite. What's more, it's the latter that has the most influence; 81% of non-C-suiters have a say in purchasing decisions. Clearly, if you're marketing only to the highest level, you're overlooking the people who need to notice you.
B2B purchasers tend to make their purchasing decisions based on rational thought, rather than emotional reaction. B2B consumers are more concerned with an ROI than a normal consumer, and therefore, showing value in your product or service is absolutely necessary.
Don't use traditional thinking when you're thinking about who is doing the research and making the decisions in the B2B market. In 2014, 18- to 34-year-olds accounted for almost half of all researchers, an increase of 70%.
Organic Search Is Still King.
While many may argue that, in a B2B market, researchers and/or decisions makers will make their purchasing decisions based on relationships, brand recognition, or referrals, that's simply not true. Once again, according to Google, 71% of B2B researchers start their research with a generic search. In fact, on average, B2B researchers will conduct a total of 12 searchers prior to engaging with a brand's website.
Content marketing is actually going to help drive that visibility during those organic searches. By generating blogs, eBooks, whitepapers, videos and infographics for your audience, you will be able to attain the brand visibility needed to stand out during those organic searches.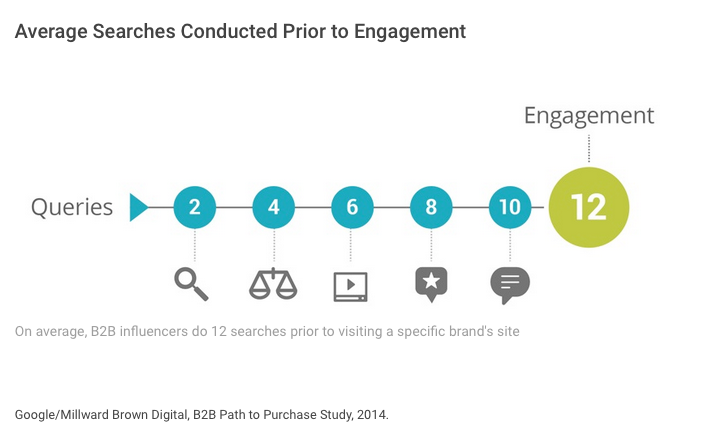 Embrace Content Marketing
If you're a B2B marketer, you need to understand that content marketing is the gift that keeps on giving. The more content you generate, the more you will be able to serve your users continually with information that is essential to them. In fact, content marketing can be used for customer retention. After a lead becomes a customer, valuable content will keep them engaged. Here are some ways you can take advantage of content marketing for B2B consumers:
After you've written several blogs around the same industry or product, you can compile those blogs into an eBook so that you can provide a larger product of value to existing or potential customers.
Generating videos of any nature can help aid in the marketing process greatly. Not only are you providing a more dynamic form of media to your audience, but videos help to extend the conversation with your customers. When asked what they did after watching, B2B researchers said they talked to colleagues, looked for more information, visited a brand's website/store, or shared the video.
Be a gatekeeper of your content after it becomes of value to increase lead generation. If you keep your most valuable, insightful content behind a web form, then you're sure to increase lead generation of consumers that are interested in your content, which likely make them qualified leads. It's important that you, first, establish the value of your content so that users will be more willing to provide you with their information in order to unlock the content.
Analytics is Everything.
If you're a B2B marketer and you don't know where some or all of your leads are coming from, you're doing it wrong. Analytics and tracking is everything in B2B marketing because it allows you to enhance what's working and abandon or modify what's not. Most B2B marketers have already embraced analytics. In fact, in a report made by Regalix about the state of B2B marketing metrics and analytics, 89% of respondents say they use analytics to improve marketing performance and 73% use analytics to gain better visibility into the sales funnel. The same report asked survey respondents to identify their organization's key marketing analytics objectives: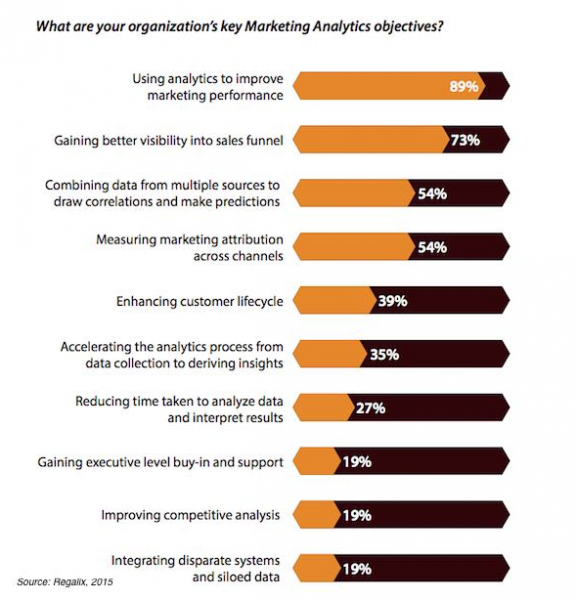 Focus on Your Why
Unless you're a branding expert, it's likely that you've focused largely on what your organization does and how they do it within your marketing collateral and messaging. It's time to step outside the box and become a storyteller. Ask yourself and other key members of your organization: Why do we do what we do? Focusing on the products or solutions you offer will not give you a competitive edge.
Simon Sinek, a leadership expert and influencer, did a TED talk that talks about how you can find and communicate your why. He then looks more deeply into an actual organization that has embraced the "why": Apple Computers.
As a B2B marketing manager, you might have already heard of these essential truths–you may even already embraced them, but even these essential truths will need to evolve as technology becomes more and more advanced. On Target can help you develop a comprehensive B2B digital marketing campaign that focuses on your WHY and keeps your target audience in mind. Learn more about our B2B digital marketing services.
Best,
Erica Weatherstone